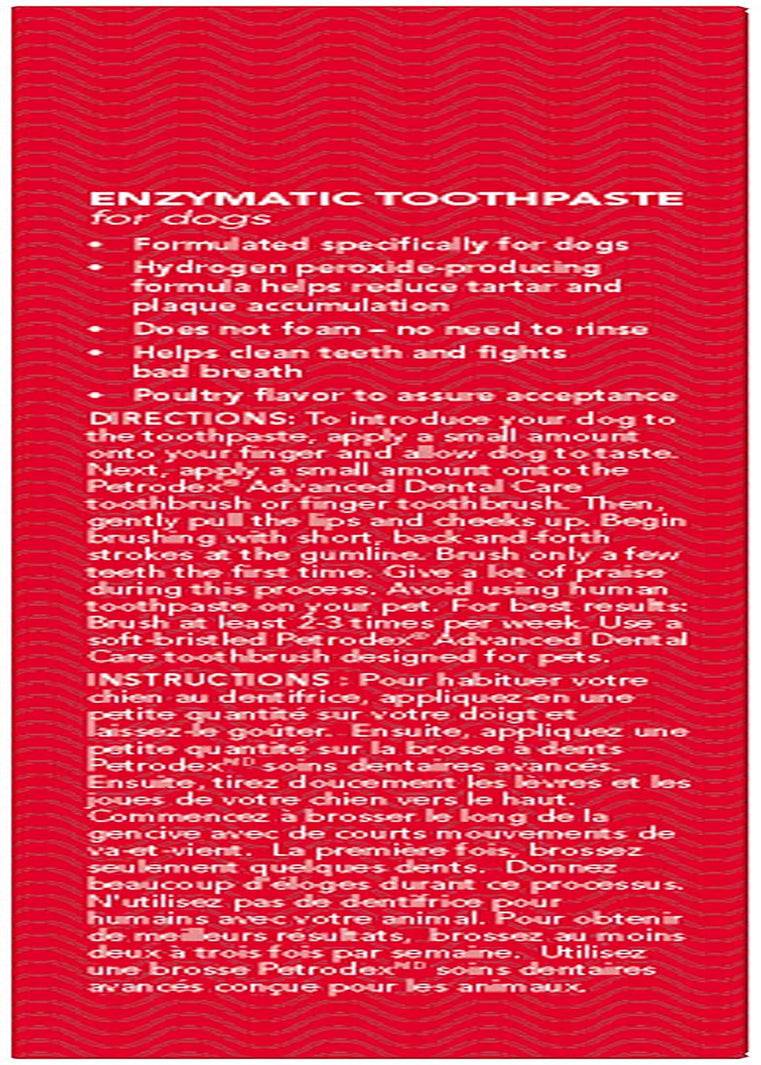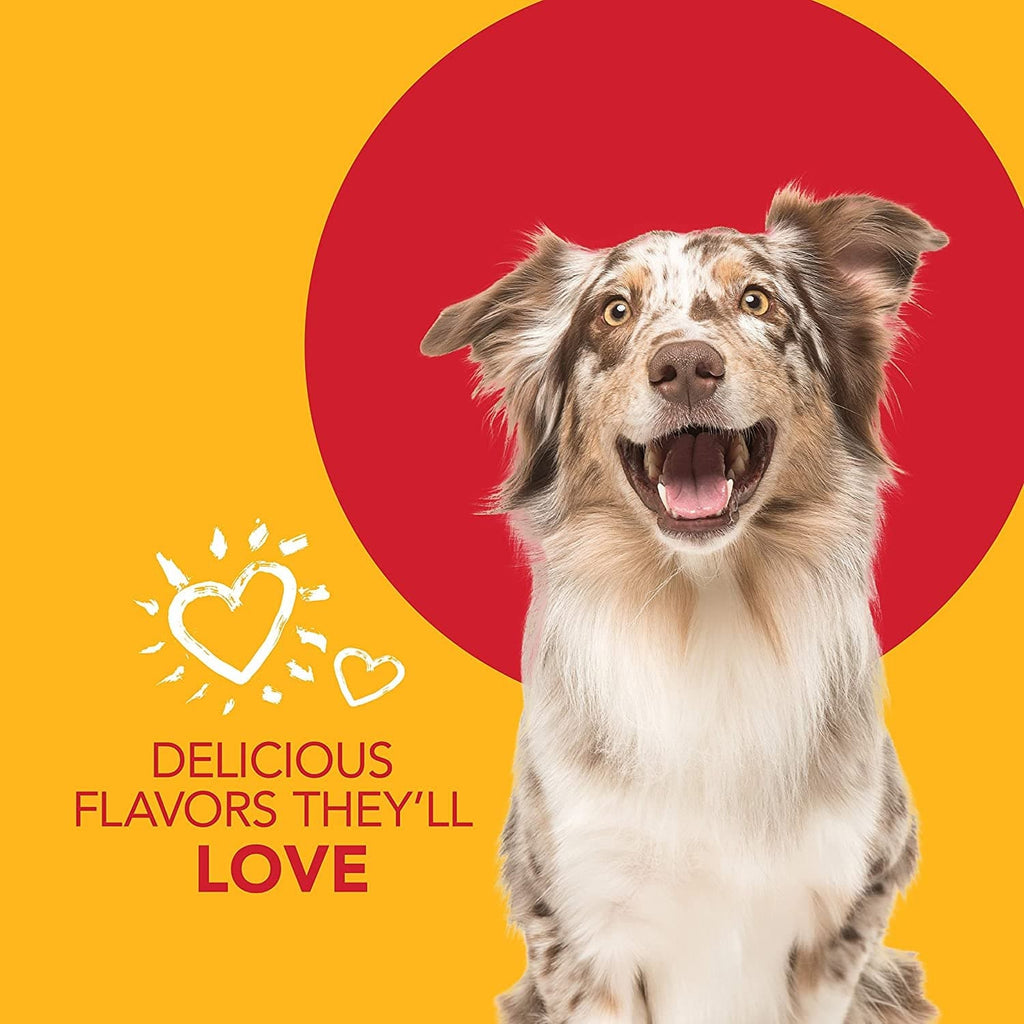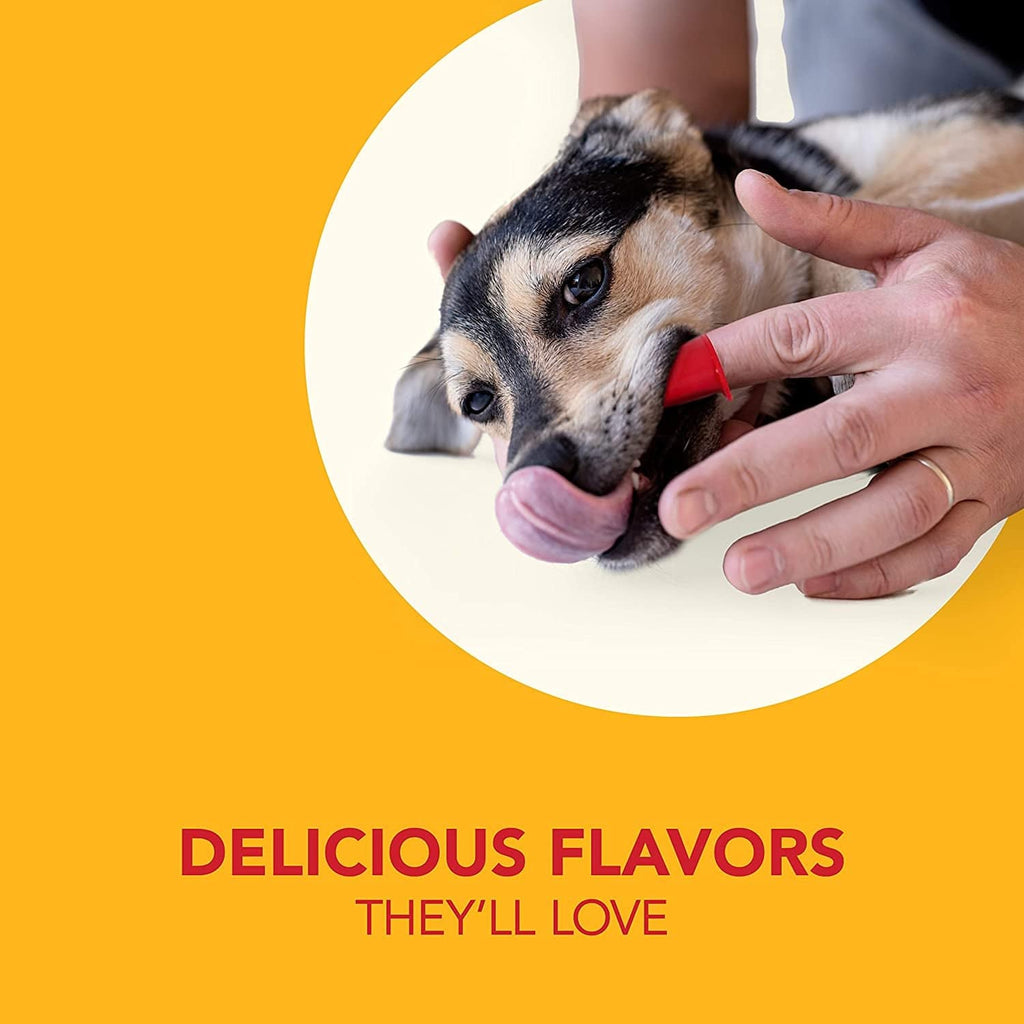 About This Item
Description
Unlock Your Puppy's Best Smile 🐶
As a responsible pet owner, you know how important it is to take care of your furry friend's health. You watch their diet, make sure they get enough exercise, and take them to the vet for regular checkups. But what about their dental health? Did you know that most dogs suffer from some form of dental disease by the age of three? This can lead to painful tooth decay, bad breath, and even systemic infections. That's why it's crucial to incorporate dental hygiene into your dog's daily routine, and Petrodex Enzymatic Toothpaste for Dogs is the best place to start.
Highlights
DOG TOOTHPASTE: Petrodex Advanced Dental Care Enzymatic Dog Toothpaste helps reduce plaque and tartar formation

PATENTED ENZYMES: With patented enzymes, this non-foaming formula of dog toothpaste does not require rinsing

FIGHTS BAD BREATH: With regular use, Petrodex Enzymatic Toothpaste for Dogs helps reduce plaque and fights bad breath

FLAVORS: Dog toothpaste comes in a two flavors; delicious poultry flavor that dogs love, and peanut flavor to assure acceptance

RECOMMENDED USE: For best results, brush using enzymatic toothpaste for dogs at least 2-3 times per week. Use a soft-bristled Petrodex toothbrush designed for pets
Description
The Petrodex Advanced Dental Care Enzymatic Dog Toothpaste is specifically designed to help reduce plaque and tartar formation in your dog's mouth. It uses a patented enzyme formula that actively fights against bacteria and bad breath, so your dog can have healthier teeth and gums. Unlike other dental hygiene products, Petrodex Enzymatic Toothpaste for Dogs doesn't require rinsing, so you won't have to struggle with getting your dog to cooperate more than necessary. 
Taste Your Dog Will Love
One of the biggest challenges when it comes to dental care for dogs is getting them to cooperate. But with Petrodex Enzymatic Toothpaste for Dogs, your pet will start looking forward to their brushing time. The toothpaste comes in a delicious poultry and peanut flavor that dogs simply cannot resist, making the process of dental hygiene much more enjoyable.
Safe for All Breeds
Pet owners often worry about using dental hygiene products that might not be suitable for their dog's specific breed or health condition. With Petrodex Enzymatic Toothpaste for Dogs, you don't have to worry about any of that. It's safe for all dog breeds and sizes, and its gentle formula won't irritate your dog's sensitive gums.
Ingredients You Can Trust
We know how important your dog's health is to you, which is why we use only the highest-quality ingredients in our products. The Petrodex Enzymatic Toothpaste for Dogs contains sorbitol, dicalcium phosphate, water, hydrated silica, glycerin, poultry digest, dextrose, xanthan gum, acidified calcium sulfate, disodium phosphate, potassium sorbate, citric acid, sodium benzoate, and aspergillus niger fermentation extract.
Our Promise to You
We're so confident in our products that we offer a 100% satisfaction guarantee. We stand behind our Petrodex Enzymatic Toothpaste for Dogs as a pioneer in dental care for pets, having sold to thousands of satisfied customers who have rated us five stars across the board. 
Don't wait until it's too late. Start taking care of your dog's dental health today with Petrodex Enzymatic Toothpaste for Dogs, and unlock your puppy's best smile.
We're happy to recommend the Petrodex Enzymatic Toothpaste to our pup-loving customers. This wonderful Enzymatic Toothpaste meets all our criteria for exceptional product and beneficial impact on your furry loved one. Therefore we award it the Happy Tails Seal of Approval.