All the essentials for pets & their humans
At Felicitails, we take pride in offering a thoughtfully curated collection of premium pet products and essential animal services that cater to pets of all ages, from their early stages to their senior years.
Whether you're seeking emotional support animal or psychiatric service animal certification programs, online or local training, reliable dog walking and sitting services, DNA and health testing, pet insurance providers, or a vast array of hand-curated supplies spanning over five hundred categories, rest assured that we have you covered.
Join us as we embark on this journey together, dedicated to the well-being and satisfaction of our animal companions. Let's create a world where our pets flourish, maintain their unique sense of style, and accompany us throughout life's adventures.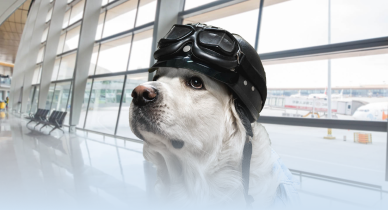 Want to Learn More About Flying with your Psychiatric Service Animal Guide?
Download our FREE guide with detailed information on over 14 US based domestic airlines. Find specifics about each airline, links to valuable resources, information on how to obtain your PSA Travel Letter ... even how to train your PSA properly for today's in-cabin requirements.
I personally want to welcome you to Felicitails, where we are dedicated to making a positive impact by offering a modern platform that caters to the diverse needs of pet owners.
Our comprehensive range of services includes emotional support and service animal certifications, professional training, local pet attending services, and a curated selection of high-quality foods, treats, and supplies.
We consider it an honor to be involved in the lives of thousands of pet owners, assisting them in achieving success and happiness in their journey with their beloved furry companions. By joining our loving community, you have the opportunity to be part of something greater — together, we can make a tangible difference in the lives of cherished animals, who, in their own unique way, profoundly influence and enrich our lives.
XO,
Founder
Dog Breeds
The Maltese dog, with its striking beauty and charming personality, has captured the hearts of dog lovers worldwide. These elegant companions are more than just a pretty face; they come with a rich history and a loving disposition that makes them wonderful pets. In this comprehensive guide, we delve into the world of Maltese dogs, exploring their delightful temperament and traits.