Did you know some dogs have a genetic mutation that makes them sensitive to many commonly used drugs, including some anesthetics?
Drug-sensitive dogs can experience symptoms ranging from diarrhea, lethargy, seizures - even a coma. With proper DNA testing, you'll know if your dog has drug sensitivities so you can avoid potentially dangerous medications.

Your dog's saliva swab is analyzed at Embakr's state-of-the-art, CLIA-certified, dog-approved lab facility. At the lab, they extract your pup's DNA and run it on their custom-built genetics chip, which is a proprietary DNA microarray with over 200,000 markers. This chip produces a detailed view of a dog's genome, which they then run through our proprietary bioinformatics pipeline - created by the top dog DNA scientists in the world.
DNA Testing and Health Screening
Backed by Science
Founded by Scientists, Developed by Veterinarians for Dog owners
Accurate Breed Testing
Advanced Technology for Accurate Results on over 350 Breeds
Health Risk Screening
Screening for Over 230 health Risks on impacting your Dog
BETTER SCIENCE FOR HAPPIER DOGS
Research partners of Cornell University College of Veterinary Medicine
Official dog DNA test of the Westminster Kennel Club Dog Show
WHAT TESTING WILL SHOW
Breed breakdown
350+ breeds tested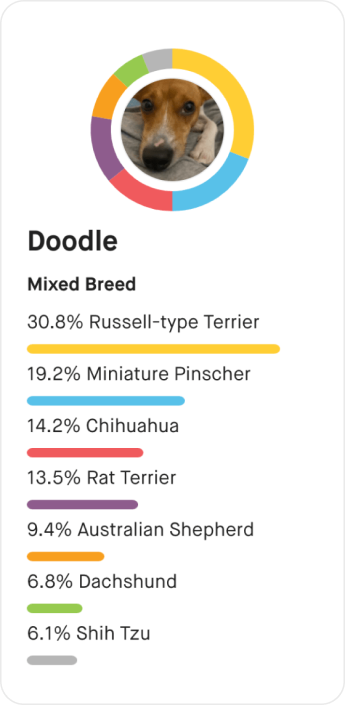 Embark tests for over 350 breeds, types, and varieties. We sniff out more breeds than any other DNA test.
Ancestry
Family tree and geographical origins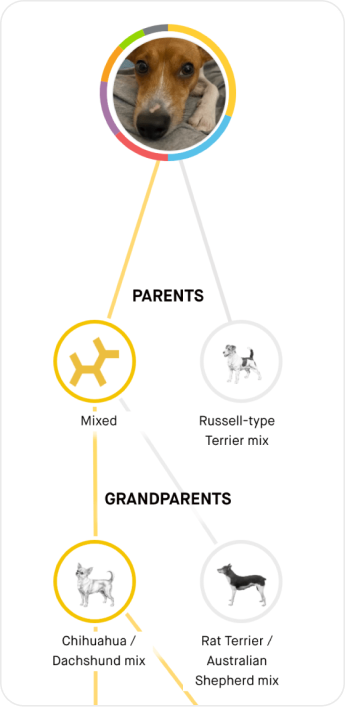 Our genetic analysis can reveal most dogs' breed mix going back to their great-grandparents.
There's more: with the information embedded in your dog's DNA, we can identify the routes that distant ancestors took around the world before they came home to you.
Relative finder
Meet your pup's relatives in our database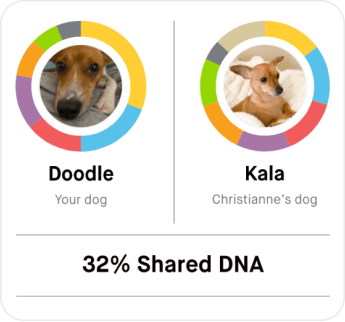 We'll tell you how much DNA your dog shares with others in our database and give you the option to connect with them. Embark dogs have reunited with their parents, siblings, and even children!
Health screening
For 230+ genetic health risks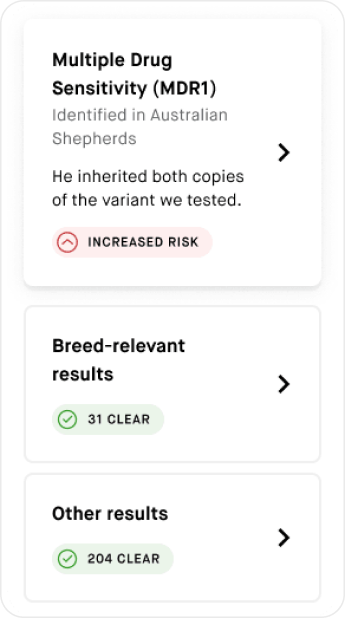 Give your dog a health screening that goes beyond breed to their unique DNA. Imagine being able to take actions today to manage, treat, or even prevent certain health conditions later in your dog's life.
With Embark, you can! From diet and lifestyle changes to medical interventions, you'll have the knowledge and ability to give your dog its best life. Identify potential:
Drug sensitivities
Degenerative diseases
Bleeding tendencies
And many more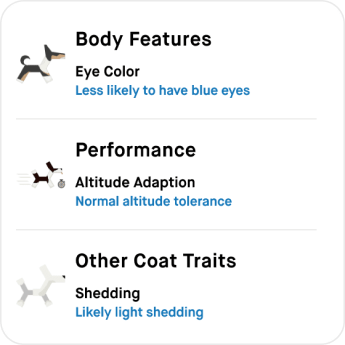 Size, coat, grooming needs — your dog's traits don't just make them adorable. Knowing their characteristics in advance makes you a more informed and empowered pet owner.
Compare Embark's DNA tests
| | Breed ID DNA Test | Breed + Health DNA Test |
| --- | --- | --- |
| Price | Starting At $109 | Starting At $159 |
| Overview | The best DNA kit for dog owners who want their dog's breed breakdown | The best kit for dog owners who want to get their dog's breed breakdown and genetic health screening |
| Breed breakdown | | |
| Ancestry | | |
| Relative finder | | |
| Talk with a vet geneticist | | |
| Predicted adult weight | | |
| Health screening | | |
| Trait insights | | |
| Measure genetic diversity | | |
A better DNA test for happier dogs
Darius K.

We have been able to tailor Loki's training and exercise regime much better to suit her needs now that we know she is composed of primarily working breeds. Our dog found her passion in scent work and has been much happier since.

Vicky Y.

One of my dogs has a hereditary issue. Embark notified me immediately before completing the rest of the tests. I took Allie to the vet, unknown health issues were fixed and she is now on preventative treatment (prescription dog food). So grateful!
About Embark A different kind of dog DNA company
Not all dog DNA tests are created equal - and neither are the companies that make them. While some of of Embark's competitors are part of big conglomerates, Embark is a startup founded by dog-loving scientists and veterinarians. They only focus on one thing: canine health.

Their founders, Ryan and Adam Boyko, spent years traveling the world and swabbing dogs in remote areas of Europe, Asia, and South America. But they knew there was more they could do to support all dogs.